As a vintage jewellery collector, one of the most common misconceptions I've observed over the years is the association of the term 'Retro' with something from the 1960s-1970s. Although the word was indeed coined around that time, when it comes to Retro jewellery, the actual design period goes back even further, between the 1930s-1950s. 
From the Great Depression and the 'Glorious Thirties' to WWII and post-war prosperity, the world underwent many changes during those turbulent decades. This inevitably affected the time's fashion and jewellery, making it unmistakably distinct from its forebears.
Today, the period is fondly remembered for the birth of many iconic designs reminiscent of the Golden Age of Holywood and the revival of the American Dream. Retro jewellery has been making a comeback in recent years, continuing to inspire designers to incorporate the vintage style's elements into their modern collections.
The stock market crash in October 1929 marked the start of the Great Depression, which affected economies worldwide within a year. The extravagance and luxury that defined 1920s styles came to an abrupt end. Since most women couldn't afford to update their wardrobes, the fashion silhouette practically froze for a decade. In Europe, Art Deco was breathing its last breaths before the 1937 International Exhibition of Arts and Techniques in Modern Life in Paris marked its end. Even so, the movement continued to evolve into what was later known as Art Moderne.
With all the gloom and despair of the economic downturn, it's no surprise people found an escape in moving pictures. Hollywood's influence on fashion only increased during the Depression years, with movies fostering a yearning for the glitz and lavish lifestyles depicted on the big screen. And while women couldn't afford new clothes very often, they could refresh their look with unique jewels and accessories. Jewellery makers obliged by inventing new types of imaginative jewels using inexpensive materials like colourful plastics and moulded glass.
Costume jewellery designers such as Trifari and Boucher produced a wide range of imitations that effectively mimicked precious stones, Indian-carving techniques, or even marketed designs like Cartier's tutti frutti. Convertible jewellery, which had made its appearance in Art Deco, was still very much in vogue, with dress clips becoming the most popular 1930s jewellery staple. Worn singly or in pairs, these versatile clips could be worn on the strap or neckline of a dress or attached to a hairclip, handbag or another accessory. Their popularity was surpassed only by the double-clip brooch, consisting of two pieces that were mirror images.
By 1939, WWII had begun in Europe, with the US entering in 1941. Like in the previous war, women replaced men in the workforce and took up many physical activities. Ladies' clothes became more masculine to fit their new lifestyle. Trousers or culottes were now acceptable attire everywhere to allow for cycling to work. However, the war had made the supply of certain materials difficult, particularly precious metals, which were now restricted to war use. Strict regulations on domestic production and consumption put a limit on almost everything: From the amount of fabric used and the number of buttons to the use of pockets and zippers. With so little clothing to show for, the focus was now on accessories.
Unsurprisingly, this decade saw the American costume jewellery industry booming, with sales and registered patents reaching all-time highs. But another thing that climbed to new heights was the quality of costume jewels. With the Depression pushing fine jewellers to switch to costume jewellery and the war driving skilled European artisans to immigrate to America, there was a new wave of superb costume jewels produced in all price ranges. By 1946, Providence, Rhode Island, had become the United States' costume jewellery hub. And with European fashion and jewellery production interrupted by the war, American designers and their Hollywood muses took it upon themselves to define early 1940s jewellery styles. 
Women mimicked the outfits and accessory choices of the period's celebrities, such as Greta Garbo, Marlene Dietrich, and Joan Crawford. For the first time, fashion represented the casual, more athletic American lifestyle rather than the refinement of French haute couture. In Europe, it wasn't until 1947 that wartime austerity styles started to fade, particularly thanks to Christian Dior's New Look. The collection introduced the hourglass silhouette, reviving the image of the feminine, romantic woman and putting Parisian fashion back in the spotlight.
The emphasis on the hourglass figure continued to dominate women's fashion through the 1950s. The style clearly illustrated what society expected women to be now that the war was over. That is, wives and mothers. Full skirts highlighted the waistline, tight pencil skirts hugged the hips, and low necklines emphasised the pointy bosom. Coco Chanel's little black dress and the pillbox hat introduced by Balenciaga were common favourites during this decade.
Jewellery became loud and proud, with wide gold-tone bangles, large brooches, drippy bib necklaces, and statement drop earrings all becoming essential accessories. Hair ornaments, charm bracelets, and chokers were also popular, as were parures – a matching set of a necklace, bracelet, earrings and/or brooch. Colour was a major player in 1950s jewellery, with innovative combinations and new shades introduced, such as Elsa Schiaparelli's shocking pink. This was also reflected in the popularity of pearl strands and beaded necklaces, which featured beads and faux pearls in an unprecedented variety of colours.
Partly thanks to Hollywood, costume jewellery grew in high demand. Brilliant designers like Monet and Shreiner created fabulous fakes that imitated precious stones and high-end designs to the utmost detail. This allowed women of any social class to afford beautiful jewels and feel like Audrey Hepburn in Breakfast at Tiffany's or Marilyn Monroe singing "Diamonds are a girl's best friend." Another popular 1950s jewellery style was tailored costume jewellery, which featured gold or silver pieces in classic and graceful designs, usually without any stones.
Retro Jewellery Characteristics
With the end of Art Deco's flat geometric aesthetic, Retro jewellery took more domed, three-dimensional, and exaggerated forms to create an illusion of size. Jewellers also took advantage of the time's innovations, evolving their art and creating true engineering masterpieces.
One such example was the invisible or mystery setting, invented in 1933 by Van Cleef & Arpels and perfected in 1935. This intricate technique allows gemstones to slide through the metal settings without any spacing, creating an illusion of larger, floating  gems.
There was also an emphasis on texture, with metal often featured in Florentine, matte and satin finish. Resilla, cannetille and lacy filigree patterns reappeared while gold was woven, braided, twisted, and curled. Other common design elements of the time were cords and tubogas or gas pipe chains.
The era's signature cocktail rings were big and bold, drawing attention either with an enormous centrepiece or a voluminous bombé/boule design. Scroll, fan, and ribbon motifs previously reserved for brooches and earrings started appearing on the finger. When the pattern allowed, they were often pavéd or invisibly set with brightly coloured stones from end to end.
One of the most iconic Retro-era jewels, the Tank Ring peaked in popularity in the 1940s and remained in demand through the 1950s.
Chunky gold bracelets with extraordinary dimensions were crafted from bicycle chains, gas pipes or scrolls and dotted with countless gemstones that flashed daringly from every angle. Some even incorporated a small watch, adding the function of a wristwatch. Given the austerity of the times, it wasn't unusual for older jewels like charms and stick pins to be recycled into bracelets and cuffs.
Following a Victorian Revival nostalgia, wide cuffs in woven and braided patterns designed as oversized buckles or detachable clip brooches came into vogue. A fashion staple and emblematic Retro jewellery design was the 1930s Ludo or Honeycomb bracelet.
Popular Retro necklace styles included twisted wire motifs, large gas pipe chains, snake chains, and fancy gold links. Usually, a convertible element turned necklaces into a bracelet or brooch and matching earrings to suit the frugal times. Multi-purpose jewels that converted to different pieces were highly desirable, as they worked for different outfits and times of the day.
Voluminous bib necklaces made with several strands of countless coloured gemstones were also favoured. Designs often stretched from the base of the neck to the entire décolletage.
Large ear clips adorned almost every woman's lobe with colourful fans, scrolls, and volutes. Other common motifs included flowers, ribbons, and bows, usually diamond-pavéd and accentuated with rubies, emeralds, and sapphires.
Ear clips with big individual step-cut gemstones were very popular and were sometimes finished with a gold ribbon or scroll. Retro earrings were often part of a matching or complementary suite and followed a parure theme like scrolls or flowers.
Retro brooches and clips largely imitated fabric patterns like knots, bows, ribbons, and pleated lace. Whimsical and flowing designs were artistically crafted in multicoloured gold and set with colourful gems. Other common motifs include a wide variety of flora and fauna, realistically rendered on a large scale with carefully articulated details.
Patriotic themes subtly hinting at liberation, victory, and freedom were also popular. Notable examples include Mellerio's soldier brooches and Cartier's infamous 'Bird in a Cage' pins, which were followed by freed bird pins after the war.
During the war years, precious metals were not only in short supply but in some cases forbidden for sale. People who didn't settle for remodelling their existing jewels had to supply their own metal and, in countries like France, part of it would be taken for military use. The now off-limits platinum was sparingly replaced with palladium, while gold was mixed with alloys to make the most out of its limited quantity. That's why so much 1940s jewellery was made with green and rose gold or sterling silver, as well as thinner sheets of gold, often backed by base metal.
And for those of modest means, costume jewellery offered the most value for money. Alternative, inexpensive materials like wood, ceramic, leather, natural shells, Lucite, and colourful plastics were used to create quality, affordable, and eye-catching designs. Bakelite was especially popular in the chunky 1930s jewellery styles and was made into all kinds of shapes, either set with rhinestones, carved on a lathe, or laminated with polka dot motifs.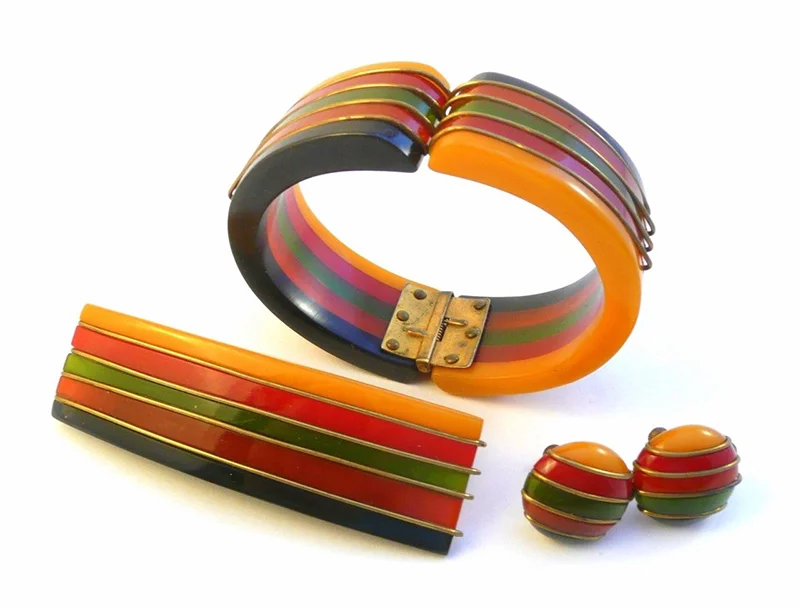 Due to wartime shortages, Retro jewellery generally lacked gemstones and often replaced them with the clever use of enamels. That's not to say gems weren't used at all – they were just on the cheaper (and more colourful) end of the spectrum. Topaz, citrine, aquamarine, and amethyst were common favourites. They were usually baguette-cut in chunky, futuristic designs that featured one or two large stones.
The complete halt of gemstone flow to most countries also resulted in the use of imitation and synthetic gems, with synthetic rubies in fancy shapes being a hit. Their precious counterparts, along with diamonds and sapphires, usually came in low carat weight, if at all. To make the most out of the smaller stones, they were mostly used in pavé or invisible settings, sometimes calibré-cut for extra design precision.
Pearl strands remained supreme for dressing up any outfit and were often made with faux pearls in a variety of hues. Beads were also fashionable and featured in dotted or striped patterns, similar to the time's tweed fabrics. Miriam Haskell's designs, in particular, were known for their intricate beadwork and masterful wiring.
Following the success of rhinestones, Austrian and Czechoslovakian makers developed a new type of glass stones with interesting shades, textures, or compositions. These were used to create striking effects and ingenious colour combinations, such as the Aurora Borealis stones perfected by Swarovski in the 1950s.
Other Notable Retro Jewellery Designs
The Passe-Partout by Van Cleef & Arpels was an ingenious design comprising two gemstone-adorned flower clips wrapped around a tubogas-style chain. The clips and chain were flexible enough to be worn as a necklace, bracelet, and separately as a brooch.
The Cartier Panthère collection was introduced in the Retro period by the Maison's Creative Director, Jeanne Toussaint, in line with the time's passion for animal jewellery. The Duke of Windsor commissioned this iconic Cartier brooch for his Duchess, featuring a bejewelled panther perched on a 152.53 ct. sapphire sphere.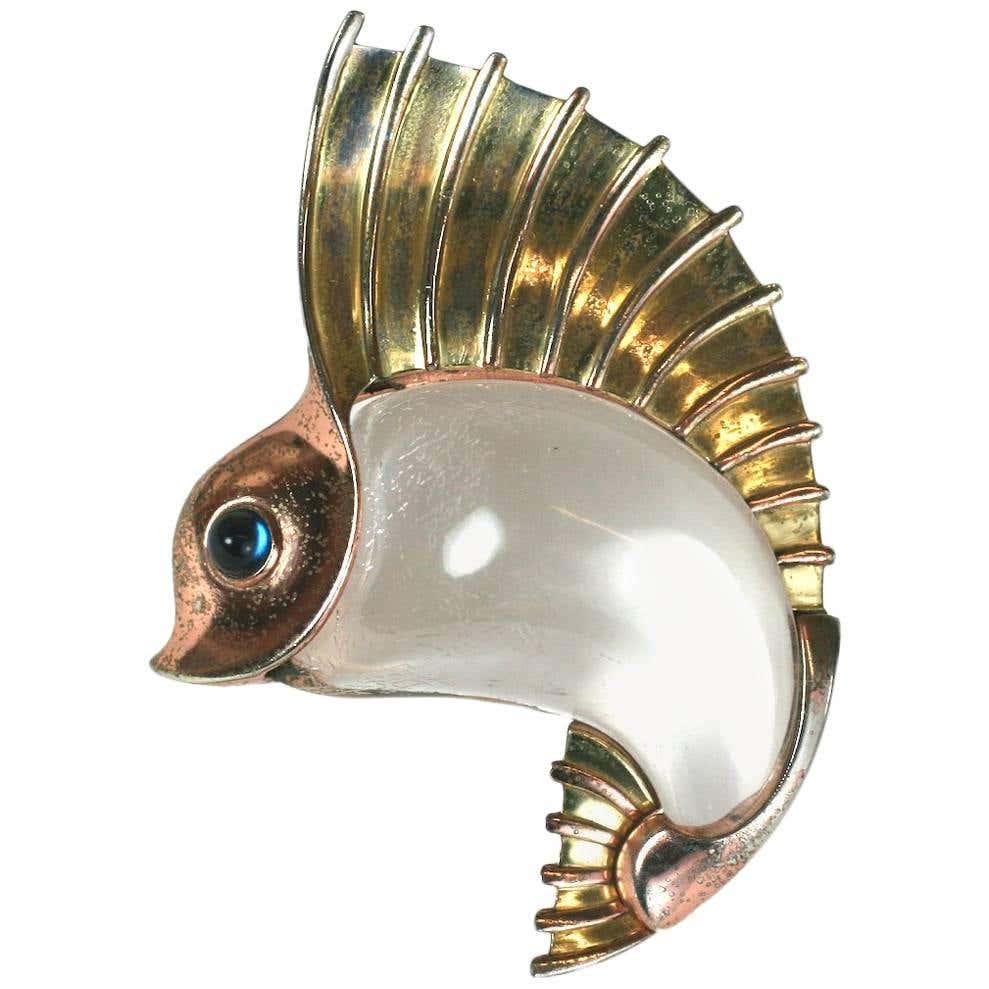 Jelly belly brooches were invented by Trifari in the 1930s and perfected over the following decade. Their signature trait was the animal's transparent and domed mid-section creating a three-dimensional effect. Trifari is regarded as the top manufacturer of jelly belly jewellery, with pieces like this 1940s sailfish brooch made from metal and polished Lucite – the dominant material in jelly bellies – selling for a few thousand today.
The famous Zip Necklace is another Retro jewellery hallmark by Van Cleef & Arpels that followed the trend of playful designs.
Costume jewellery company Coro introduced its famous Duettes in 1935. Their success prompted many other brands to develop their own methods for attaching various clips to a single frame. Women could wear one pin singly or both together as a brooch, like Coro's famous "Quivering Camellia" duette.
The extremely popular 'Ballerina' brooch by Van Cleef & Arpels had many imitators and remained in vogue through the 1950s.
Retro Jewellery – A Statement Etched In Time
Retro-period jewellery was bold and proud, with lots of presence and character. Its futuristic and 'larger than life' appeal paved the way for Modern jewellery, a style period with a rebellious spirit of its own. Unfortunately, not many examples of Retro jewellery made it intact past the 1970s.
Because most jewels were made of gold or silver during the war years, pieces were often melted down and remodelled or sold for scrap during the economic downturns that followed. This makes vintage Retro jewellery highly valuable, and pieces from that period are coveted by collectors worldwide.   
But value aside, that timeless, nostalgic beauty alone makes Retro jewellery a worthwhile investment. If you want to add an original touch of authentic vintage glamour to your look, jewels from that era are an excellent choice. They're also incredibly easy to incorporate into your everyday wardrobe; a Retro statement necklace or a pair of earrings will elevate any outfit in a blink.
So why not explore the world of Retro jewellery and become a custodian of a one-of-a-kind piece of history? Visit YazJewels and browse our collection of antique and vintage jewels with a story to tell from eras past or modern.
Until the next jewellery period, stay vintage!
Yaz X
---
---